Ice Punks
A downloadable game for Windows, macOS, and Linux
Ice Punks is a single-player 3D-action battle-royale game set in a post-apocalyptic future of nuclear winter. The main feature of the game is the destructible level surface. You can blast the ice with well-crafted puck-bombs. And everyone knows the water is dangerous.
Controls: WASD, LMB - Hit, RMB - Block, Shift (Hold) - sprint, G (Hold) - grenade. Sprinting heals. Also if you sprint long enough and bump into someone, you can push him forward. Right into the water.
Gameplay video:
In the year 1998, the last war has begun. As a result of multiple nuclear strikes, the climate has changed. The water level had risen, followed by a significant temperature drop.

Remains of humanity survived in deep ice caverns. The frozen surface of planet Earth became an arena for all sorts of crazy punks and raiders.
It's too cold to go alone. Take the hockey stick!
Linux and Mac version weren't properly tested so let us know if it works or not.
Made with Unity for #MyFirstGameJam - Winter 2020.
Game by BEREG.
Programming and game design: Stanislav Demchenko
3D-art and level design: Dmitry Kripakov
Music: Konstantin Kepke (https://soundcloud.com/konstantin-kepke, konstantin.kepke@gmail.com)
Feel free to contact us: beregfx@gmail.com
Install instructions
Download the archive, unzip it to any location and run the executable. No installation required.
Download
Comments
Log in with itch.io to leave a comment.
umm, how do u play this game on linux?
My bad, game not opening in mac, macOS Catalina latest version, Help me Please
I made a video on the game. 🏒
i believe I found a glitch in the game while I was recording a video on it, (which isn't out as of this post of mine).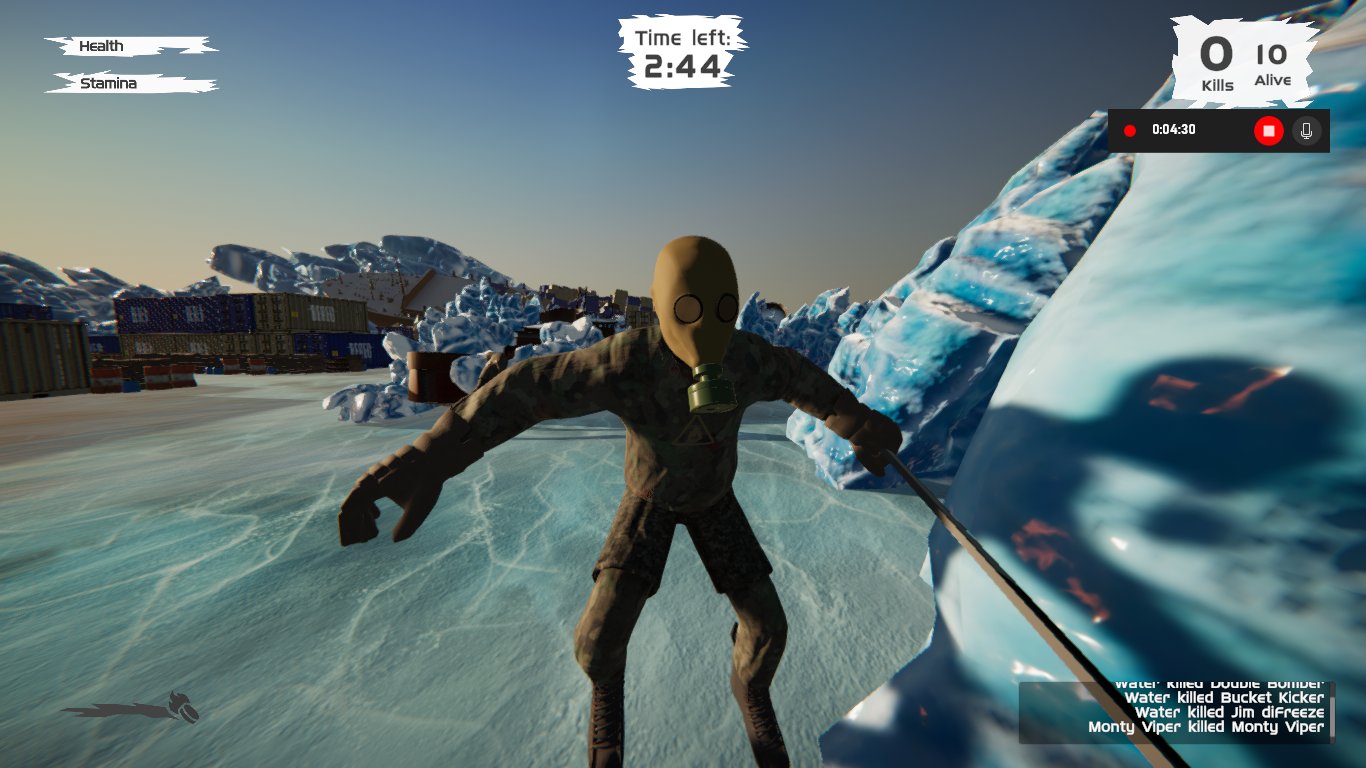 Actually quite a brilliant idea, if you managed to optimize it a good bit and continue it you could be onto something!
Thanks! We're working on it, next update will go live on the weekend. If you have any framerate issues, can you share your specs?
This was in the Linux version on an Intel i7 5960x and an nvidia 2080 ti - there were some moments were it would suddenly stutter, i presume when it's trying load new bits in.
I had lots of fun playing! Hope to see more soon!
Hey, that's was fun to watch. And you got the push-into-water mechanic! Hope you liked the game. We plan to polish combat and add multiplayer features, so hopefully, we'll see you again.
Lol yeah, I was hoping it was possible and then I did it! I'd love to check it out when multiplayer is added.
To bad I'm on mac, gameplay looks sick!
Guess what? We just added a Mac build you can try.
I played 3 random games from gamejam and your game was one of them it was actually so much fun :) i hope you enjoy my gameplay
Thank you! It looks like you had a framerate issues during play. What is your PC's specs? Maybe we need to optimize the game more.